SAM 2021, KIGALI, RWANDA
SAM 2021, The African Microfinance Week came to a close on 22nd October after a whole week of events dedicated to inclusive finance in Africa. Over 1000 participants from all over Africa attended workshops, sessions, conversations and debates, exploring the challenges and opportunities of financial inclusion and setting up plans for building an inclusive financial sector through innovation and the use of modern technology.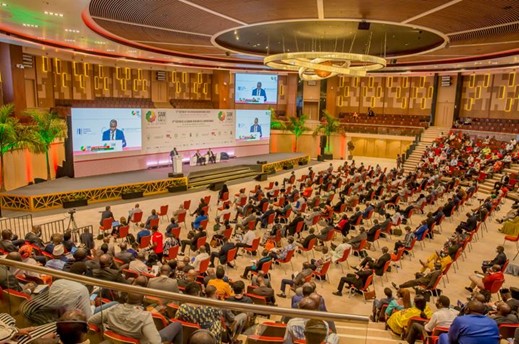 SAM took place from 18 to 22 October at the Kigali Convention Centre in Kigali, Rwanda, with Covid protocols and health precautions strictly set in place throughout the conference for everyone that took part. SAM is one of the largest inclusive finance conferences in Africa, and this year's topics focused on resilience, on COVID-19 impact and on how strengthening inclusive finance can help overcome crises and speed up recovery.
"One is not born, but rather becomes, resilient:
Strengthening inclusive finance to overcome crises" (ADA Microfinance)
We had the opportunity of being present again at SAM 2021, after the successful 2019 edition, to give a more in-depth view on QWare, the all-in-one banking solution which provides all the functionalities a financial institution needs while also supporting financial inclusion and helping reduce operation costs by fully digitally transforming an institution.
On the first day of the event, workshops took place and featured many skilled professionals that offered their valuable insights and knowledge. Inclusive and responsible finance, the management of investments, green finance and client vulnerabilities, the implementation of agent networks and digital transformation were only a few of the topics on the agendas of these training sessions.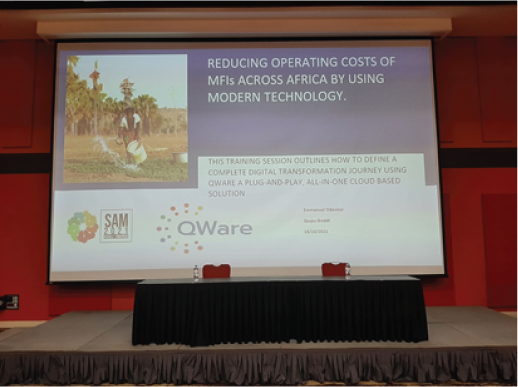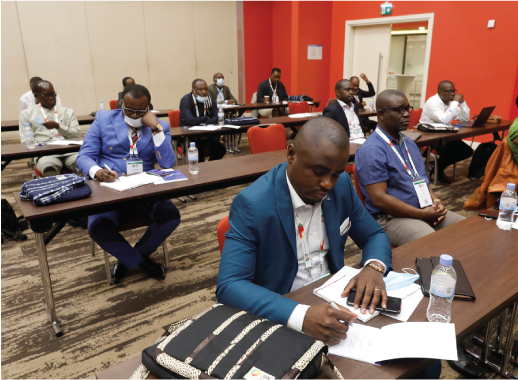 We dedicated our own full-day workshop to the roadmap of going digital with QWare, defining every step of the digital transformation journey and focusing on how our software is an integrated all-in-one solution that can address all the needs of a financial institution, with no hidden costs and no need to buy additional modules. During our session, we were able to see from our participants, once again, the expressed need for a simple core banking solution, with predictable expenses, that has the advantage of using APIs to integrate any existing or additional software, reducing in this way costs and allowing the institution to focus on growing and on having a more inclusive client base.
After the workshops, SAM brought the Innovator's Village into focus, a key event where exhibitors were able to showcase their innovative solutions. We welcomed new and existing customers and partners at our booth, detailing our solutions and our expertise in the area of digitalising financial institutions. We were especially happy to take advantage of the opportunity of having a physical meeting place where we could express our commitment in supporting MFIs and SACCOs find the best practices in digitalization.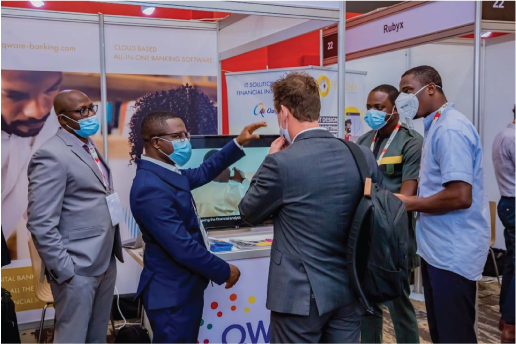 After the lessons we have all learned during the pandemic, the importance of digitalizing financial institutions has become self-evident. Change is not something easy to achieve but reshaping the future of banking in a more sustainable and reliable way is a goal that was debated throughout the conference, and we are confident that QWare, as an all-in-one banking solution is a great tool to contribute to reaching this goal in a simpler and faster way.